FOR IMMEDIATE RELEASE
Hastings Water Works Ranked 10th in the 2019 Top 50 Service Company list by Pool and Spa News sponsored by Jandy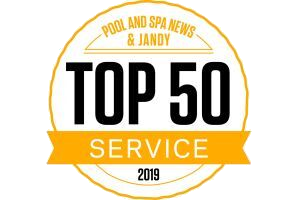 Brecksville, Ohio – October 2019 – In the second annual Pool & Spa News (PSN) and Jandy Top 50 Service List, Hastings Water Works was recognized as one of the top 50 pool service companies in the country, coming in at number 10. The selection was based on a variety of criteria, including staff management and training, industry involvement, and community contributions.
"Hastings Water Works is honored and humbled to be recognized by PSN and Jandy," said Hastings Water Works CEO David J. Hastings. "Our entire team has earned this recognition because of their passion and commitment to the clients we serve in Northeast Ohio."
As the premier aquatic services company serving Northeast Ohio, Hastings Water Works provides service, maintenance and repair to residential and commercial pools throughout the region. In addition, the company provides lifeguard and aquatic staffing for the commercial facilities they manage. Several Hastings lifeguards have been recognized as Hastings Heroes for their efforts in saving lives and going above and beyond the call of duty.
"To be recognized for our service, which is at the core of our mission, is truly satisfying," said Hastings. "Hastings Water Works has a strong commitment to providing world class services while conducting ourselves with the upmost integrity."
Hastings Water Works was founded in 1992 by Dave Hastings on the simple premise of honest, sincere and dedicated passion to deliver the very best possible services. To learn more about the company, please visit https://www.hastingswaterworks.com/about-hastings-water-works/hastings-water-works//