Therapy, tranquility, and relaxation
No water feature is too big or too small for Hastings Water Works. This includes decorative or recreational features such as fountains, cascades, slides and spray parks, as well as waterscapes and other elements at swimming pools or in office buildings, shopping malls, fine hotels and universities. Your water feature receives the same services we provide to pools, including repair and regular maintenance, weekly cleanings, new pumps and filtration systems and the full range of preventative maintenance and upkeep.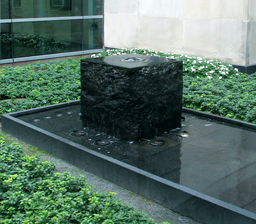 When the world-renowned Cleveland Clinic installed a remarkable sequence of reflecting pools in a landscape leading to its new Heart Center, they chose Hastings Water Works. The feature, the size of an entire city block, is comprised of six pools and a nontraditional fountain overflowing from a translucent, 52-foot wide frame. This "water-as-art" feature was designed to create serenity and a sense of well-being for patients and visitors during stressful times.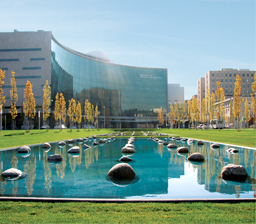 This special aquatic effect relies on the experience and professional services of Hastings Water Works to stay clean, clear and fully-functioning. Hastings Water Works services, cleans and maintains many of the serene water features, reflecting pools and fountains at the Cleveland Clinic. For over a decade, Hastings Water Works has been the exclusive provider of professional lifeguards at the Clinic's therapy facility and staff wellness center.
All water features inherently carry bacteria that can cause illness when splashed, touched, or brought into contact with your visitors or patrons. Hastings Water Works maintains proper water chemistry to prevent this.
Whether it's for aesthetics, clean cascades or soothing sound effects, Hastings Water Works can improve and maintain the life of any aquatic facility, water feature or fountain.
Copyright © Hastings Water Works.
All Rights Reserved. 
10331 Brecksville Rd. Brecksville, Oh 44141 
440-832-7700