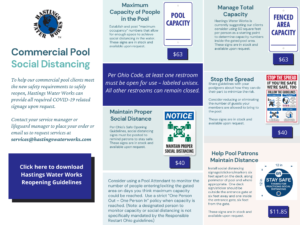 As commercial pool, including pools at condo and apartment complexes, city-operated pools, and private club pools – begin to reopen, there are several compliance requirements to consider.
To help our commercial pool clients meet the new safety requirements to safely reopen, Hastings Water Works has developed a guide to help you understand Ohio's recommendations. You can download the guide here.
Hastings Water Works can provide all required COVID-19 related signage upon request.
Contact your service manager or lifeguard manager to place your order, or email us at services@hastingswaterworks.com.
Download the commercial pool social distancing sign and decal brochure here.