Lifeguard Management & Staffing
People use your facility. We keep them safe.
Lifeguard Management and Staffing – Lifeguard standing with whistle
Hastings Water Works provides certified, professional lifeguards with the most comprehensive training and education of any lifeguard staffing company in Ohio. Our nationally recognized, award-winning lifeguards stand head and shoulders above the rest!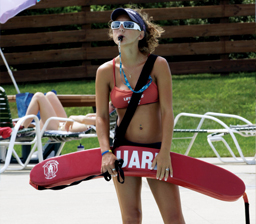 Each and every Lifeguard: exceeds American Red Cross standards, is re-certified each year by Hastings Water Works American Red Cross Lifeguard Instructors (other organizations require re-certification every two years), completes a leadership training course, a customer service training and must attend one hour of additional training every week to keep their skills sharp and knowledge up to date. Finally, all Hastings Water Works employees 18 years and older, must agree to an extensive criminal background check.
There is simply no better way to understand the significant and critical differences between Hastings Water Works and the others. The amount of dedication, resources, development and investments we provide for our Lifeguard staff is unprecedented and unchallenged. If integrity, unmatched quality and professional services are what you expect – look no further in Ohio, than Hastings Water Works.