SAVE A LIFE! BECOME A LIFEGUARD!
Hastings Water Works offers jobs that are rewarding, professional, and FUN.
Our complete care enhances your peace of mind.
Many people depend on the reliability of your facility. Let Hastings Water Works shoulder this responsibility with our turnkey service – so you can focus on other work.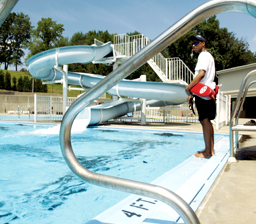 Using environmentally safe, biodegradable chemicals and cutting edge technologies, Hastings Water Works manages or services more than 110 commercial and municipal aquatic facilities across northern Ohio.
Managing aquatic facilities effectively can consume most of your day, yet neglecting them has serious consequences. We open and close the pool, ensure it is clean and operating properly and see that it's safely staffed with professional lifeguards. Our service covers all pool areas, including the bathrooms and shower area. With our bathroom supply service, Hastings Water Works will clean and stock your bathrooms and provide your facility with cleaning supplies throughout the season.
Hastings Water Works takes care of everything for the life of a pool – from preventative maintenance and upkeep, to daily management, open and close, repairs, lifeguarding, swim lessons, water aerobics, pool parties and special events to increase revenues.
Safety, supervision and maintenance, in the water and out
Affiliated with the American Red Cross, the largest primary lifeguard certification protocol in the world.
Our staff includes professional trained Lifeguards, Water Safety Instructors (WSI), Lifeguard Instructors (LGI), Water Safety Instruc­tor Trainer (WSIT), Lifeguard Instructor Trainer (LGIT) and Aquatic Examiner.
Over the past five years, 26 of our lifeguards have been ranked in the top 100 Golden Guards annually, out of some 35,000 guards worldwide. Ten of those were in 2008 alone!
Our lifeguards are 16 years or older, with criminal background checks for 18 years and older. (It's not unusual for other organizations to staff at the minimum age of 15 years with no background checks required).
Each summer we have three unannounced, videotaped audits by an American Red Cross Examiner to review guards' skills and training procedures.
We hold $11 million of liability insurance, affording you maximum coverage should the need ever occur.
We staff multiple on-call guards daily for immediate dispatch from our offices.
Hastings Water Works employs a full-time, year-round aquatics department staff, including an Aquatics Director, Director of Lifeguard Operations and assistants.
We also employ a staff of 15 full-time, year-round technicians who are also certified lifeguards for immediate coverage or emergency response.
Hastings Water Works "Learn to Swim" program is comprised of two-week sessions with seven levels of instruction. The program is conducted by our certified lifeguards, who receive additional "Learn to Swim" training and certification.
Lifeguards are employees of Hastings Water Works, which handles all training, certification, payroll liabilities, recruiting, hiring, insurance and risk management.
Copyright © Hastings Water Works.
All Rights Reserved. 
10331 Brecksville Rd. Brecksville, Oh 44141 | 440-832-7700 
Design by DaSh factor LLC